Greek calendar of "Gods in Crisis" at Athenscon2017
New calendar "gods in crisis" 2018! One god for every month! You can find it at the Webcomics booth Τ21,along with my graphic novel "gods in crisis" at AthensCon 2017 ( taekwondo stadium, Paleo Faliro, 2-3 November) ! Preorder yours here: https://goo.gl/K4UAt8 . You can find me on Saturday from 12:00 to 18:00 at the booth B04 of Pandora society and around the booths of Jemma press & Webcomics,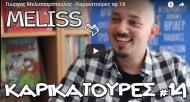 Interview at "Karikatoures" Show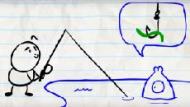 Working with pencilmation.com
Hello People! I am very happy to announce that i am now officialy working for the pencilmation cartoon series, (one of my favorite series on the web) directed by Ross Bollinger! A very exciting project! You can check the latest pencilmation collection here: https://www.youtube.com/watch?v=Og0qSPxd0CE&t=122s. Also you can watch more of my cartoons at the animation section of my site.
Pages