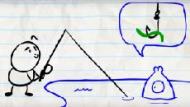 Working with pencilmation.com
Hello People! I am very happy to announce that i am now officialy working for the pencilmation cartoon series, (one of my favorite series on the web) directed by Ross Bollinger! A very exciting project! You can check the latest pencilmation collection here: https://www.youtube.com/watch?v=Og0qSPxd0CE&t=122s. Also you can watch more of my cartoons at the animation section of my site.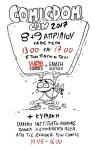 Comicdom-con athens2017 -signing
8+9 of April at the Hellenic-American Union, 13:00 &17:00 everyday, you can find me at the webcomics / Enati diastasi booth, where I will be signing copies of my comics "Agriades"(Animalies) and Gods In Crisis (greek edition). Also on the 9th, I'll be taking part at a panel about Headlines in the pages of comics, in the French Institute of Athens, at 14:45.
See you there!
more info here: http://www.comicdom-con.gr/en/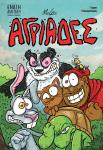 Agriades (Animalies) gets published by "Enati Diastasi"
"Agriades" was released as a digital comic in Greek and English (Animalies) a few years ago. It's an older work of mine, but with fresh madness! Now its been published by the unique editions " enati diastasi"! It debuts on April 7, at the festival of Comicdom con Athens 2017!
story/art: Meliss
colors: JesusGone
watch the trailer here: https://www.youtube.com/watch?v=_J4gULVUAnk
Pages